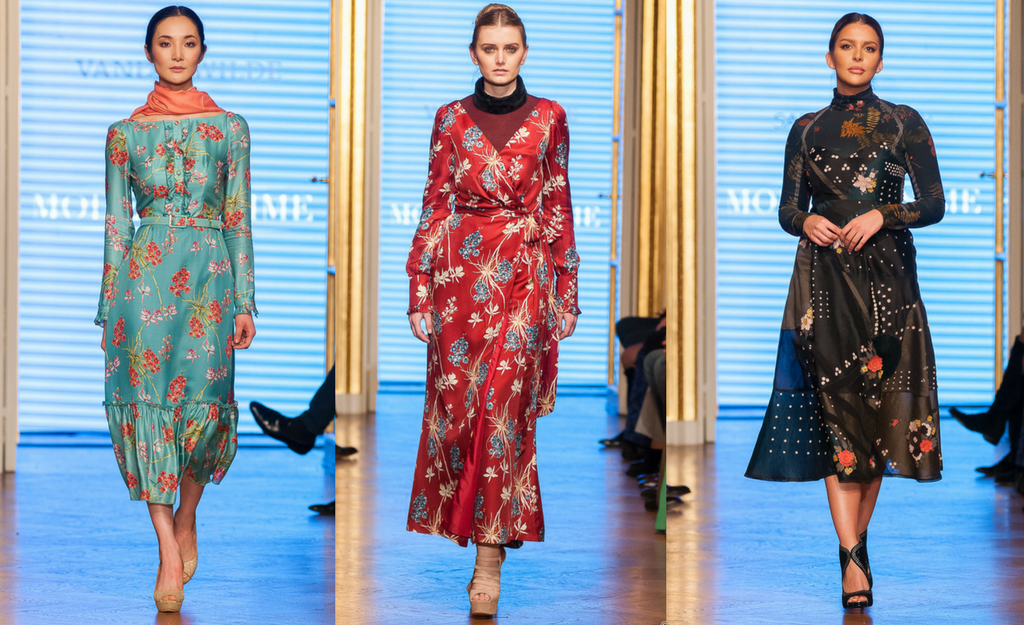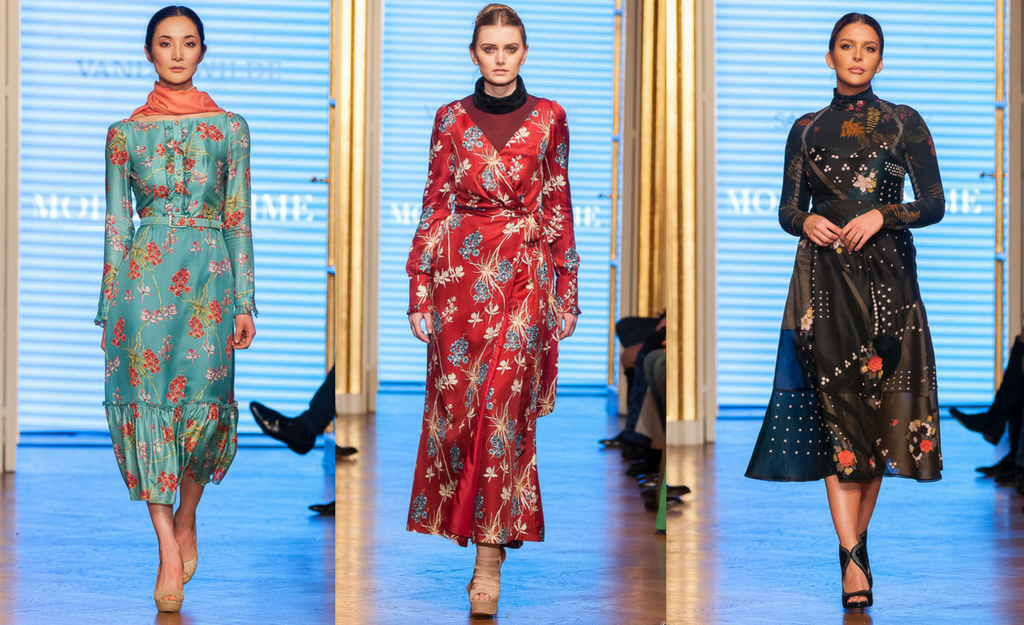 The fashion capitol of the world had its first modest fashion week. Excitement during, and after the event, was so high that people were only able to see positive notes.
You will also find out
should French body politics stop modest fashion in Paris;
Paris Oriental Fashion Show included modest clothing in its collection this year, and
why Modestissime is working with young designers on modest wear
Writer: Zuhre Gunaydin
Paris – Goltune – It's been nearly two years since first Modest Fashion Week in Istanbul. Held at the city's historic Haydarpaşa Station, Istanbul was able to introduce modest dress in Europe's  mainstream fashion.
Seven months prior, a then unknown Mariah Idrissi had appeared in a checked hijab in an international advertising campaign for high street fashion brand H&M, earning the Briton of Moroccan and Pakistani descent the title of the 'world's first Muslim model'.
In February 2017, there was another seismic shift when Halima Aden, a hijab-wearing Somali refugee living in Minnesota, made her catwalk debut at New York Fashion Week in a show for Kanye West's Yeezy label. Aden has since appeared on the runway in London and Milan, and on the front covers of leading fashion titles around the world.
London – arguably the world's most diverse city – hosted three major Modest fashion events in 2017 and is gearing up to its fourth by British pioneers Haute Elan later this month. Dubai also got in on the act, staging its first Modest Fashion Week in December.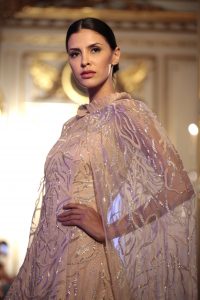 One city stubbornly sitting out these developments was Paris. The self-proclaimed fashion capital of the world and birth place of haute couture seemingly had no interest in either Modest fashion or accommodating hijabi models. It's surprising given that France is home to Europe's largest Jewish and Muslim populations – a combined 6.5 million people in a country of 67 million – whose faiths dictate conservative dressing.
While the collections of many major fashion labels include Modest clothes – garments that conceal rather reveal your skin and body shape – the tag was off-putting to a country obsessed with secularism.
For the French body politic Modest is synonymous with Islam, and religiosity must be resisted at all costs, even if that means clamping down on individual freedoms, including banning the full-face veil and burkinis on the beach.
Last week's Oriental Fashion Show (OFS) at Paris' famed Hôtel de Crillon changed the landscape. This two-day event presented the 2018 collections of twenty-three international designers, of which four – Vertuoses (France), Vanderwilde (Spain), Blanche (Morocco), and Sahil Kochhar (India) – made history by taking part in France's first major Modest fashion parade.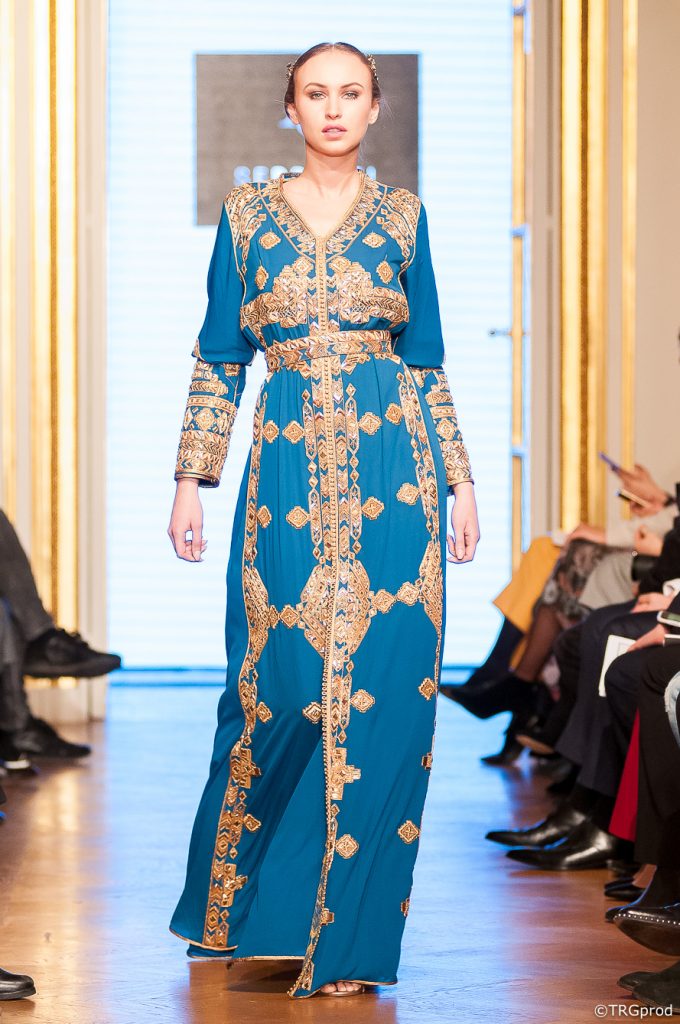 The OFS organisers, themselves French Muslims, uniquely exist to promote fashion designers whose origins are from the vast Silk Road. Operating since 2004, they have out on catwalk shows across the Middle East, in North Africa, Central Asia and their native Paris.
Although many of the participating designers are Muslims, OFS has never before hosted a 'Modest' event. Part of the organisation's remit is to support emerging talent, so when OFS founder Hind Joudar met with Amal Sultan and Samia Benaissa of Modestissime, she decided to take the start-up business under her wing and help them launch.
"When we saw that Modestissime was going to do a Modest fashion show, we were so excited; everybody was talking about it! We have been waiting for such an event for ages," said Myriam Alla, French Muslim fashion blogger.
"In London, Dubai, and Turkey, there is big culture around Modest fashion. Here in France a lot of women are eagerly waiting for the opening of Modest stores and the chance to see Modest fashion shows." 
As a new Modest fashion consultancy, Modestissime are working with young designers irrespective of their religion or ethnic background. Each is carefully selected for their creativity and quality of work, helping them to stand out on the international stage.
Sultan comes from a brand consultancy background, having previously worked with the likes of Jade Jagger, House of Harlow, and Judith Leiber, while Benaissa carved out her business acumen working in management for SNCF, one of Europe's leading transport companies.
"Yes, all the clothes on the catwalk were not modest, but that's not a bad thing, because it's not just targeting one type of woman, but all women and this is the magic of fashion,"
Both designers are observant Muslims. The pair were formulating separate plans for the Modest fashion sector when chance brought them together last year and they teamed up to form Modestissime.
Their business model offers a mixed bag of services to up-and-coming designers, from consultation and brand development, to promoting them at fashion shows, giving them PR and marketing nous, as well as introductions to key buyers and bloggers. Their future plans include launching an online boutique to sell clothes by the designers directly to consumers.
From the off, Benaissa and Sultan have positioned Modestissime apart from other similar platforms by claiming "Modesty has no religion: Modesty is a lifestyle". Their launch event at Hôtel de Crillon was a multi-faith affair too: the four fashion labels presenting shared three faiths (Christianity, Islam and Hinduism), and their capsule collections while all Modest, were not bound by any faith-specific dress code. None of the models wore a hijab, and several pieces showed bare necks, calves and forearms.
Benaissa and Sultan see this approach as best for France, which has yet to carve out a major slice of the rapidly growing global Modest fashion clothing purchased by Muslim women reported at $44 bn in 2015. The duo wants to remove Modest's stigma in the West by looking beyond its association with Islam. "Hijab is a personal matter of faith," they repeatedly told French media during interviews.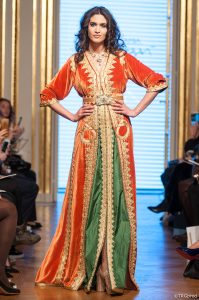 The strategy of separating religion from fashion was well-received by France's fledging Modest scene. Sabrina Parnanzone, the blogger behind Modest Fashion France, told Goltune that she's "faced a really hard time getting people to understand the project, and the seriousness of it. I've had to constantly justify myself that no, my goal is not the Islamization of France," said Parnanzone.
"People here are really reticent about Modest fashion because most don't know what it is. They just associate it with Islamic fashion."
Parnanzone firmly believes Modest fashion needs to be positioned as "universal" to broaden its appeal.
"Yes, all the clothes on the [Modestissime] catwalk were not modest, but that's not a bad thing, because it's not just targeting one type of woman, but all women and this is the magic of fashion," said Alla.
France's domestic market alone offers rich rewards. Sultan claims the French Modest fashion sector "is as big if not bigger than the UK and US". She also points to the huge opportunities of exporting to neighbouring countries, such as Germany, Belgium and the Netherlands.
"People here are really reticent about Modest fashion because most don't know what it is. They just associate it with Islamic fashion."
For Sultan, the first step is to break through "the preconceived notions that Modest fashion is Muslim fashion, which in French minds are girls with hijabs wearing black clothes."
"We are hopeful of changing this weakness and making it our biggest strength by challenging these misconceptions, portraying a brighter and clearer image of Modest fashion as something trendy and colourful. A new vision for all French people."
Paris modest fashion week didn't get the same attention compared to similar events in Istanbul, London and Dubai. Modestissime couldn't secure its own standalone event, instead it was part of OFS.
"The relief, the pleasure, and the sensation that finally, something great has happened here in France. For Modest fashion to occur during such a major [Paris] Fashion Week, allowing us to discover several international brands including new French label Vertuoses, we are super happy," said Parnanzone.